from
Press TV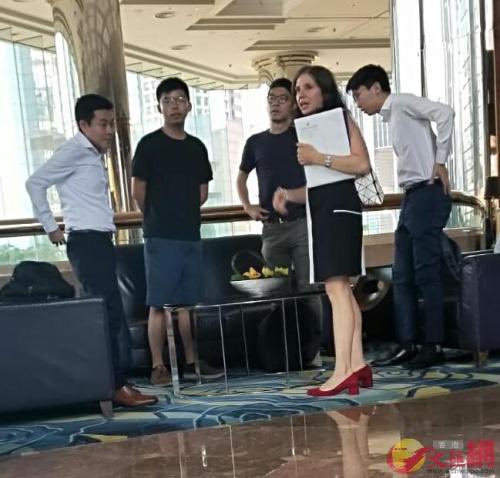 A report in the Hong Kong newspaper, Ta Kung Pao, said US diplomat Julie Eadeh of the consulate's political section, had a meeting with members of Hong Kong political party Demosist in Hong Kong.
The newspaper published a photograph of the diplomat while talking with student leaders in the lobby of a luxury hotel—under the headline "Foreign Forces Intervene."
China has long accused the Western governments, particularly Washington, of meddling in Hong Kong affairs. The city has been rocked by months of agitation against a proposed bill to allow people to be extradited to stand trial in mainland China.
While the proposed bill has been suspended, protests have continued, opening a new front in an escalating face-off between the United States and China.
On Thursday, the Hong Kong office of China's Foreign Ministry summoned senior officials from the US consulate general in the city and lodged stern representations over the contact.
US State Department spokeswoman Morgan Ortagus, however, justified the move, saying that it was the job of US diplomats and those from other countries to meet with different people, including opposition leaders.
"This is not only what American diplomats do. This is what other countries' diplomats do," she said.
Ortagus also claimed that "leaking an American diplomat's private information, pictures, names of their children... is what a thuggish regime would do."
She, however, did not name the diplomat or elaborate further on the kind of private information or children's details which were disclosed.
China's official television broadcaster CCTV called the American diplomat "the behind-the-scenes black hand creating chaos in Hong Kong."...
[read more
here
]